Donate
Donate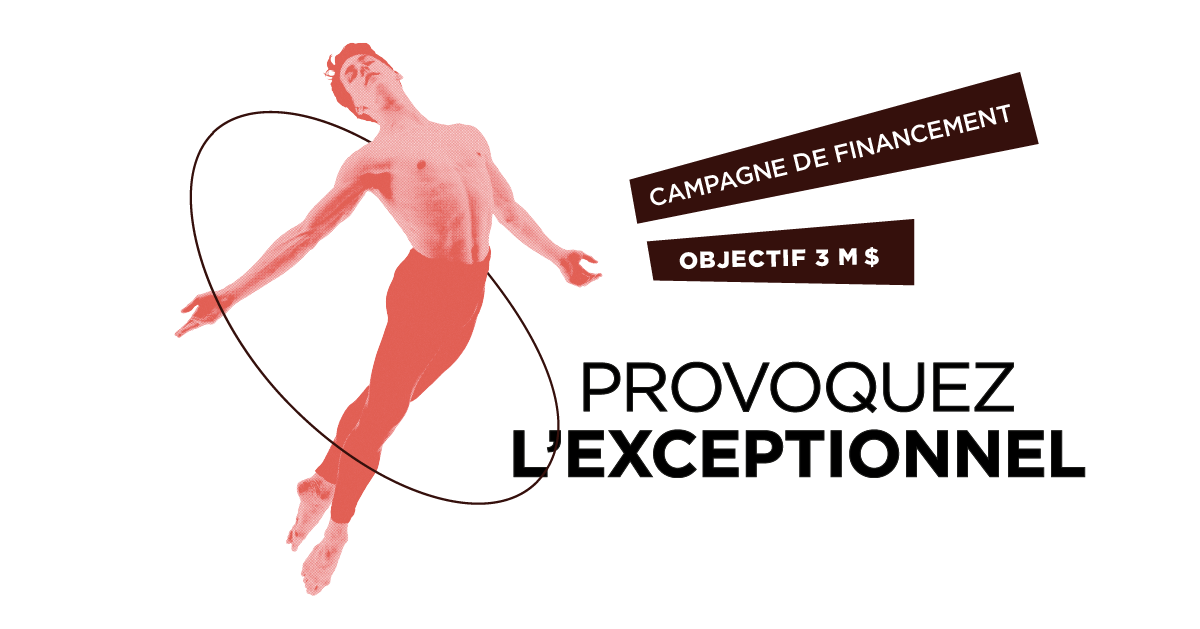 Fundraising campaign
The Foundation of L'École supérieure de ballet du Québec is currently conducting the Provoquez l'exceptionnel fundraising campaign whose objective is both to meet the immediate needs of L'École Supérieure and to activate an endowment fund to meet future requirements and ensure the flourishing of the young artists of tomorrow.
The main projects of this campaign include boosting scholarships, increasing the physical and psychological health services offered to students and setting up a training room. The financial goal is $3 million over three years, including $1 million in planned donations.
Honorary chair
The Foundation has the privilege of counting on significant support for our institution. Ms. Katia Mead, daughter of Ms. Chiriaeff, the founder of the school and Les Grands Ballets, warmly accepted the honorary presidency of the campaign.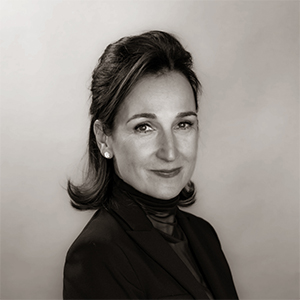 Katia Mead
Honorary chair
Provoquez l'exceptionnel Fundraising campaign
"I am very proud to join the Create the Exceptional fundraising campaign. It is a way to pay tribute to the vision of my mother, Ludmilla Chiriaeff, and to ensure that Quebec can continue to offer our young artists world-class professional dance training. As my mother used to say, "dance is movement, and movement is life." Day after day, year after year, the École supérieure de ballet du Québec provides its students a rich education, recognized for training the performers, creators and teachers who will be our society's future cultural leaders. With your support, the campaign will help the École supérieure reach new heights and achieve new ambitions. Won't you join us?"
To know all the details of this campaign, consult this document.
For our young dancers, being exceptional means diligent work, great precision and deep passion. This is your opportunity to support these young athletes and their extraordinary passion for their art, where they focus all of their energy and ambitions. Join us to bring out the best in them. Create the exceptional!
You have the opportunity to change the lives of young artists by contributing to one of our three funds.
Anik Bissonnette - Fund for Excellence
Three facets focused on students.
HEALTH – Caring for the physical and psychological health of each student by facilitating access to sports doctors and ensuring the presence of specialists (mental preparation coach, nutritionist, psychologist, etc.).

ARTISTIC DEVELOPMENT – Inspiring our young artists by offering artistic, pedagogical and creative projects and by inviting renowned professors.

BURSARIES – Providing financial support to youths from families of modest means and rewarding excellence.
Ludmilla Chiriaeff - General Fund
Contributing to the purchase of equipment as well as the development and maintenance of the infrastructures of our institution founded by Ludmilla Chiriaeff, and providing students with a safe and inspiring environment.
Fund for the Bibliothèque de la danse Vincent-Warren
Supporting the purchase or restoration of works and the development of the digital collection of the largest dance library in Canada. Students, teachers and the entire community benefit.
A tax receipt will be issued for any donation of $20 or more.
Many ways to give
Monthly donation

Contribute in a committed way

Give recurring support and show your commitment for as long as you choose. It's an easy, effective way to support our students as they continue their education.

Benefits:
● Donate regularly within your budget
● Save time by making an ongoing commitment in a single step
● The total of your annual donations could entitle you to a significant tax credit
Matched donation

Amplify the impact of your gift with your employer

Several companies have programs that will match your donation 1:1 or even 2:1. The Fondation is registered with the Benevity platform, which has more than a hundred registered companies. If your company is part of the program, it might double up your gift!

Benefits:
● Double or even triple your support for our young students' training.

Visit benevity.com.
First major cultural donation

Expand your cultural philanthropy

Sometimes, it costs less to give more! Choose the fund that matters most to you, and it will go even farther.

Benefits:
● An additional 25% tax credit for a first large cultural donation of between $5,000 and $25,000
● Payments can be made in one or more instalments.

The following table gives examples of the tax credits you could receive.


Credits may vary depending on your net or taxable income. Note that this program can stop without notice, please visit Revenu Québec

For more information, contact us.
Major donation

Offer in a significant way

Become a pillar of the foundation's long-term future. You will see immediate tangible benefits from your generosity.

Benefits:
Cash donations
● Lump sum or spread out over several months or years. Stocks or other securities
● This option has the benefit of leaving your liquid assets intact
● No capital gains tax
● Eligibility for a tax receipt for the fair market value of the securities at the time of donation

For more information or if you're ready to donate securities now, contact us for details of the steps to take.
Planned gift

Be charitable beyond the present

Charitable donations can be made now or in the future. A donor who wishes to make a significant impact for generations to come can choose to plan the donation of assets accumulated during their lifetime. Donors who choose to make a planned gift make a significant mark on the foundation while attending to their personal, family and tax matters.

Several options are available:
● Life insurance
● Trust
● Pension
● Bequest
● RRSP or RRIF donation
● Securities (stocks, bonds, etc.)

Benefits:
● Tax benefits for your heirs
● Perpetual support for a foundation that means so much to you
● Support talented young dancers as they pursue their dreams
● Support the visibility of dance in Canada and around the world
● Create a cultural legacy in dance.

For more information, contact us.
Goods Donation
L'École supérieure and its students
You can offer your support by giving equipment used for dance training or artistic and educational development :
• training equipment
• musical instruments
• audiovisual equipment
• costumes
• etc.
For further information on donations in kind or for more on our current needs, please contact us.
Bibliothèque de la danse Vincent-Warren
Thanks to the great generosity of our valuable donors, the Bibliothèque de la danse has succeeded in amassing a collection over the years.
If you have show programs, posters, photos, books, videos or any other dance-related document, or if you're a choreographer and you have a company and wish to promote it and safeguard your legacy, our team will be glad to examine your documents in order to determine where they might fit into our collection.
For further information or to make a donation to the Bibliothèque de la danse, please contact Marie-Josée Lecours via this form or at 514 849-4929, ext. 230.
Discover our collection