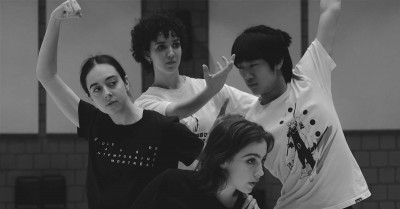 Dancers : Meggie Cloutier-Hamel, Sophie Groleau-Rouleau, Laura Brisson, Shô Araki. © Meanne Belisle
Dancing Colossus
64 students from L'École supérieure de ballet du Québec (ESBQ) and the École de danse contemporaine de Montréal (EDCM) will dance on the stage of Salle Wilfrid-Pelletier from March 8 to 11, as part of the Danse Danse season. A unifying project and an incomparable professional experience.
A project by Stephanie Lake Dance Company based in Melbourne, Australia, Colossus was created in 2018 with graduates from two Australian dance schools. Over the course of 10 weeks, the students, along with a few freelancers, formed the initial cast. Nikky Muscat and Sarah McCorie, the company's rehearsal staff with whom we worked during two intensive weeks of learning last January, were among them. Always handed over to students, the project quickly became known around the world. Colossus was performed in Hong Kong, Germany and France before landing in Montreal, and will next be performed in Geneva and Toronto in the coming weeks.
Nikky and Sarah are two of the four people responsible for transmitting the choreography across the globe. They are both inspired by this mission. "It's wonderful to work with the same material, but with different bodies around the world" says Nikky. Sarah adds enthusiastically that the piece "is about the dancers doing the work." Indeed, while the two company rehearsal directors walk us through the process, it is we, the dancers, who bring the choreography to life and have to work hard to achieve the required result.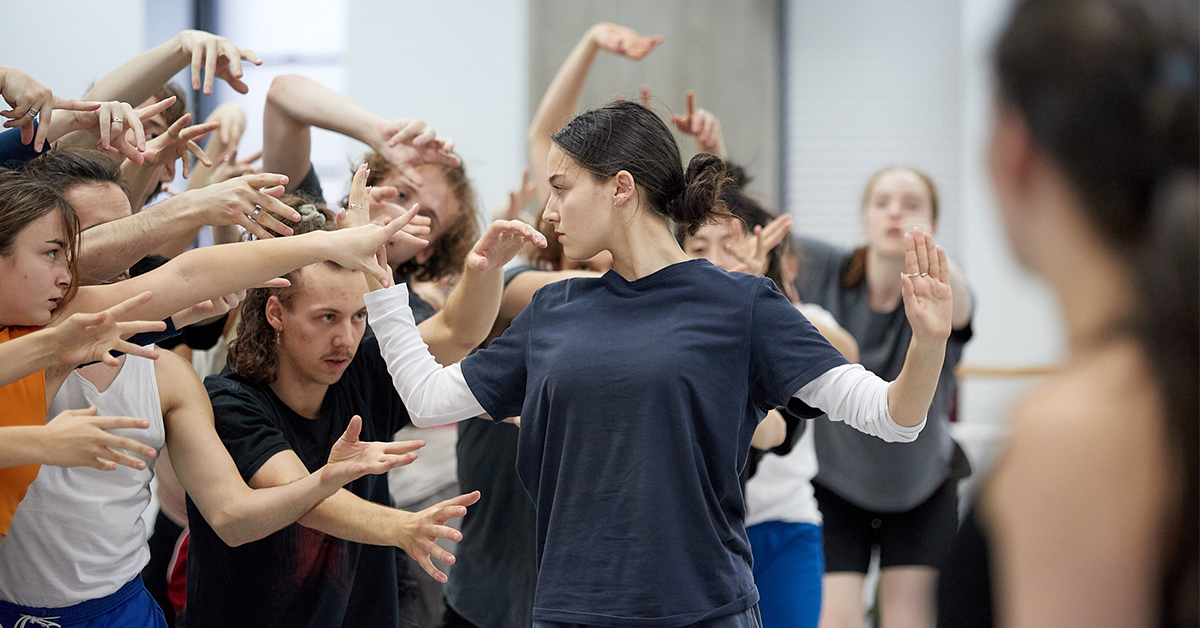 © Ariane Laget - Agence Avec Sheila
Between contemporary and classical
The collaboration between the École de danse contemporaine de Montréal and L'École supérieure de ballet du Québec doesn't leave students indifferent. The project is a way to widen the circle of contacts as well as* "to exchange, learn and evolve together"*, as Clara Koçollari, a student at the ESBQ, points out. Jeanne Brabant-Lavigne, also a student at L'École supérieure, believes, like many others, that a choreographic project that brings the two institutions together is londue. "The strengths of each school complementeach other so well," she says. She is not the only one to think so. Many, including myself,believe that mixing the styles allows for a balance between the precision of classical andthe vitality of contemporary dance. That's what Colossus is all about: contemporary dance in a setting that draws on the codes of ballet, including unison work and thechoreographic details that come with it.
"It's important in the dance community not to separate ballet and contemporary, we're not opposites," says Rosalie Lamoureux, a student at EDCM. Having studied at the ESBQ and now finishing my studies at the EDCM, I see that Colossus allows us to break down barriers between students from both schools and to finally connect through our passion.
A professional experience that includes 64 performers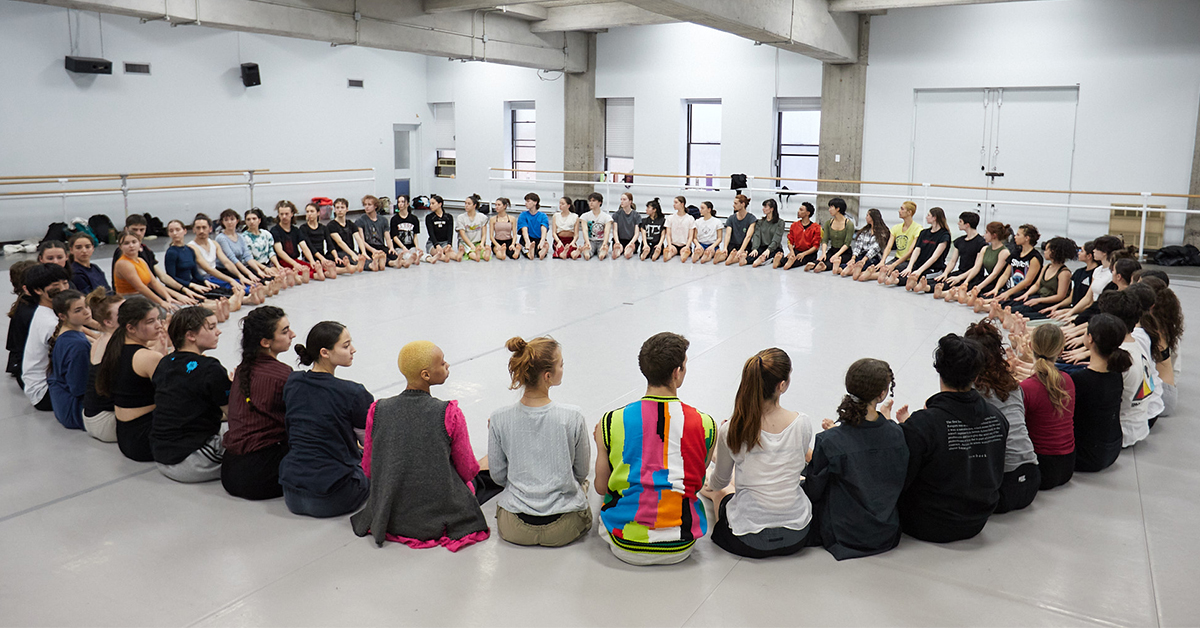 © Ariane Laget - Agence Avec Sheila
No pun intended, but the Colossus project is colossal. Few dancers will dance with so many people on stage during their career and on such a large stage. ESBQ student Calista Caron says, "Everyone knew it was a special opportunity". It's true, there was a great energy in the studio during the two weeks of work, which will undoubtedly continue during the rehearsals until the shows. For Anaelle Carrette, also a student at L' École supérieure, the experience immerses her completely in the professional dance environment, giving her the tools to learn how to work with others and on herself.
The large number of dancers also comes with its challenges. Managing 64 people is a job in itself that Nikky and Sarah do brilliantly. Discipline and patience are the watchwords, as holding the attention of so many performers could quickly become chaotic.
Despite this, there was an "urgency to learn" during the two intensive weeks, as Rosalie Lamoureux points out. This need for accomplishment was always present and it is probably what allowed us to give ourselves to the piece so quickly and to enjoy the learning process. It is "learning a technically and artistically challenging piece at a phenomenal speed", as EDCM student Méanne Belisle puts it, that makes the experience even more satisfying.
Hoping to see you at Salle Wilfrid-Pelletier at Place des Arts in Montreal from March 8 to 11 to witness the final result of this process.
Meggie Cloutier-Hamel, graduating student at the École de danse contemporaine de Montréal