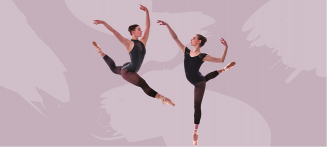 photo: Michael Slobodian
End-of-Year Webcast Shows
This year, L'École supérieure is pleased to offer two webcasts. Corps de ballet and Un finissant, un chorégraphe will be shown on esbq.tv on June 17, 2021, as a testament to the perseverance and remarkable work accomplished by students, teachers of the Professional division, and the supporting team .
Corps de ballet
In strict adherence to sanitary measures, students in the Intermediate, Advanced and Superior cycles continued their training, while ingenious ballets were choreographed for each class-bubble. The timeless classical technique was adapted to the new constraints; the expressiveness of our passionate young dancers transcends distance and masks. With creations by Gaby Baars (Cassiopée and Sérendipité), Sophie-Estel Fernandez (Chapitres), and Monik Vincent (Suite roumaine).
Un finissant, un chorégraphe
The culmination of their demanding training in classical dance, this show brings to the forefront young artists and their refreshingly view on the world. They reveal themselves in variations of the classical repertoire and original solos, created in collaboration with choreographers updating the classical vocabulary: Gioconda Barbuto, Célestin Boutin, Charles-Alexis Desgagnés, Roddy Doble, Kiara Flavin, Étienne Gagnon-Delorme, Kyra Jean Green, Marcio Vinicius Paulino Silveira, Stephen Satterfield, and Andrew Skeels.
Two unique opportunities to see our students dance, just for you!