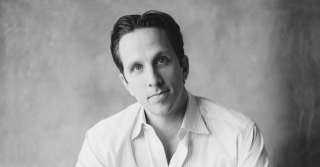 Étienne Lavigne named co-president of the board of the ESBQ's Foundation
We are very pleased to announce the appointment of Mr. Étienne Lavigne as co-president of the Board of Directors of the Fondation of l'École supérieure de ballet du Québec.
Already involved with the Foundation, he succeeds Nicolas Rubbo in assuming this co-presidency with Natacha Engel. We are confident that our co-presidents will bring their leadership skills to help us achieve our goals.
A special thank you to Nicolas Rubbo, who has dedicated himself to the Foundation for many years and continues to serve on the Board. The challenges are great for the fundraising campaign Provoquez l'exceptionnel, but we're confident that we'll be up to the challenge for our young dancers.
About Étienne Lavigne
A former student of the École supérieure, Étienne Lavigne knows our institution and the lives of our young dancers inside out. He joined the National Ballet of Canada in 1997, and was promoted to Premier soliste in 2007. After a 20-year career and more than 1,500 performances for 3 million spectators, he retired from the National Ballet full-time in 2015 and was named Principal Guest Artist. During his dance career, Mr. Lavigne studied business administration at Ryerson University and developed an active role in dance administration. Since 2009, he has taken on the management of many of Canada's leading dancers and companies and, with Guillaume Côté, founded Anymotion Production and Côté Danse, whose mandate is to bring people together and dazzle them by making them see and experience dance differently. In 2016, he was named General Manager of the Festival des Arts de Saint-Sauveur, one of the country's largest summer dance festivals. During his tenure, FASS underwent a remarkable renewal, doubled its ticket sales and, in 2020, was awarded the Prix Opus as Specialized Presenter of the Year.