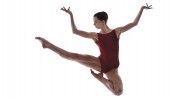 From L'École supérieure to the Nederlands Dans Theater 2
A graduate of the professional program at the only francophone institution in North America to provide world-class ballet training, Ève-Marie was the only dancer recruited by the company following an internship at The Hague this past summer.
For 19-year-old Ève-Marie, this is a dream come true and, for L'École supérieure, it's the tremendous pride of seeing one of its graduates star on the international stage.
"I am extremely pleased for Ève-Marie, who is fulfilling her artistic ambitions," stated Anik Bissonnette, Artistic Director of L'École supérieure, adding: "At l'École supérieure, she acquired sound classical technique and developed an openness to contemporary proposals, two characteristics shared by performers with the Nederlands Dans Theater. Today, the NDT is a beacon in the world of dance as it showcases the most gifted choreographers and attracts the most talented dancers."
During her time at L'École supérieure, Ève-Marie developed a strong base in ballet, performing, among others, the part of Odette in Swan Lake in the school's last annual show presented in the Pierre-Mercure Hall in May 2016. She also explored contemporary choreographies as a featured performer in original creations.
Ève-Marie further distinguished herself through the determination, commitment and enthusiasm she brought to school activities. In fact, in 2015, Ève-Marie earned the Danse Danse award for her perseverance.
photo: Michael Slobodian