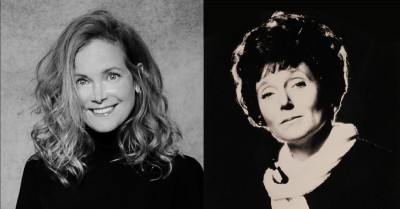 Funds named for our great artists!
We are pleased to announce the new names of the funds of the Foundation of L'École supérieure de ballet du Québec!
Anik Bissonnette - Fund for Excellence
Funds currently dedicated to health and nutrition, artistic development and bursaries are now combined under a single banner: The Anik Bissonnette - Fund for Excellence. All donations directly related to the success and wellbeing of our students have been centralized.
This initiative of the Foundation's Board of Directors nicely recognizes Anik Bissonnette's contributions to the artistic direction of L'École supérieure for close to 13 years. To Ms. Bissonnette, all talented youths deserve the utmost attention and their wellbeing must be central to the School's priorities. Whether they achieve their dream of becoming professional dancers or pursue other avenues later on, their time at L'École supérieure is key to their journey. It is a place where willpower, courage and commitment as well as sharing and solidarity are cultivated. Whether it is through nutrition workshops or mental preparation coaching, specialized care or support bursaries, each student benefits in one way or another from donations to the Anik Bissonnette - Fund for Excellence, named in honour of this great ballerina who will remain the face of benevolence of our fine institution!
"Nothing is more important to me than offering Québec youths concrete means for fulfilling their dreams and shining on stages here at home and elsewhere. While the Fund for Excellence bears my name — something that touches me deeply —, we mustn't lose sight of the fact that this fund was created in support of our young people. It is there to give all talented youths an equal chance of receiving training of the highest level, regardless of their financial means. It also gives them access to the world's finest artists and teachers, who will communicate their know-how and turn them into great performers. Finally, the Fund makes it possible to protect the physical and psychological health of these athletes in their prime, an issue that has become increasingly important to me in recent years.
This is why I am now calling on your generosity. The students of L'École supérieure are not lacking in courage, perseverance or virtuosity, but they do need your financial support if they are to develop under optimal conditions as both artists and citizens. Their success is in your hands. Help them."
Anik Bissonnette
Donate to the Anik Bissonnette - Fund for Excellence
Ludmilla Chiriaeff - General Fund
The General Fund supporting the purchase of equipment and the maintenance of the School's infrastructure has been rechristened the Ludmilla Chiriaeff - General Fund. Contributions to this fund allow our students to develop in a safe and inspiring environment. We are delighted to showcase in this way, this grande dame of dance who founded the School in 1966. Ludmilla Chiriaeff created more than 300 ballets for the stage and television. During the course of her career, she received a number of honours, including the title of Companion of the Order of Canada, Grand Officier of the Ordre National du Québec, the international Nijinsky Award, and the Governor General's Performing Arts Award as well as the Denise-Pelletier Award from the Government of Québec. In 2022, she was also named a historical figure by the Government of Québec.
Donate to the Ludmilla Chiriaeff - General Fund
The legacy of these two major artists is tremendous. Those who have the opportunity to frequent our studios as well as Québec society at large can rightfully be proud of this world-class classical dance training institution, where the wellbeing of students is a priority. It is a priceless heritage that must be preserved!