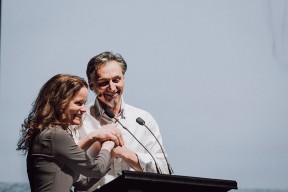 Anik Bissonnette, artistic director of École supérieure de ballet and Ivan Cavallari, artistic director of Les Grands Ballets | photo: Sarah Emily St-Gelais
Hand in hand with les Grands Ballets
For Les Grands Ballets' 17-18 season launch, the very first season of Ivan Cavallari as artistic director, seven students from the professional program danced at Théâtre Maisonneuve. L'École supérieure's artistic director, Anik Bissonnette, was also on stage to talk about strengthening artistic ties with the company.
It is in this mindset that young dancers Chloé Bourdeau, Karolyn Chen, Alicia-Rose Couvrette, Maude Fleury, Juliette Foucault, Justine Grenier and Florence Hughes presented a sequence at the barre, on pointes, choreographed by Beverley Aitchison. They were accompanied on the piano by Jean-François Duchesne, with music he arranged by Brahms, Claude Léveillé and Leonard Cohen. Also included was one of his own compositions.
"Working hand in hand with Ivan and Les Grands Ballets makes good sense to me. Given my long love story (18 years and counting!) with Les Grands Ballets, it goes without saying that I am extremely pleased with this announcement. Working together, we can better prepare the next generation of dancers and continue to inspire young people here and elsewhere." — Anik Bissonnette
As soon as he arrived in Montreal, Ivan Cavallari announced his intention to forge closer artistic ties between les Grands Ballets and L'École supérieure. It's for this reason the two artistic directors took advantage of Wednesday's event at Place des Arts to announce that several collaborative initiatives will be taken, starting in the 2017-2018 season, to ensure a ready supply of locally sourced talent.
New beginning
The two sister institutions founded by Ludmilla Chiriaeff, who have established themselves as leaders in the development of dance in Quebec for more than 50 years, have several important projects to achieve in the coming years. In 2017, while Les Grands Ballets will move to their new address in the Wilder Espace Danse Building, L'École supérieure will evaluate, among other things, the feasibility of moving into the Grand Séminaire de Montréal.
Photos: Sarah Emily St-Gelais