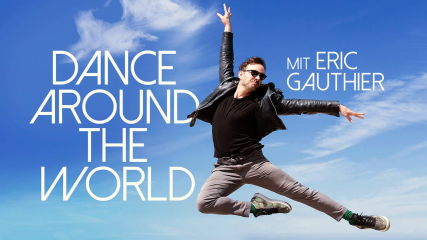 Montreal, City of Dance: ESBQ in German documentary with Éric Gauthier
The École supérieure de ballet du Québec (ESBQ) has always been a breeding ground for exceptional talent, and one of its former students is striking proof of this. Dancer and choreographer Éric Gauthier now shines on the international scene, particularly in Germany, where he is a veritable celebrity. In fact, he's the star of the German documentary series Dance Around The World, whose episode devoted to the Montreal choreographic scene brought him back to the studios of our school.
With the charming character of a dance road-movie, the documentary series Dance Around The World invites viewers to discover the world's most popular and prestigious dance companies. For the sixth leg of his international journey, Éric Gauthier returned to his native Montreal to share his love of dance with us. Our former student honored us with a visit, reminiscing about his youth as he walked the halls of the École supérieure. It was in our studios that he began to cultivate his passion for dance, a passion that has led him to the world's greatest stages.
In this documentary, you'll see not only Éric Gauthier - a renowned artist with a warm personality who has remained true to his roots - but also our teacher (a long-time accomplice) Miriam Simon, Les Grands Ballets artistic director Ivan Cavallari, and numerous Montreal dance companies and artists. The documentary truly immerses us in the effervescence and diversity of the local scene, from Tentacle Tribe and Marie Chouinard to BJM, Virginie Brunelle, Patin libre and the iconic Louise Lecavalier.
We invite you to watch this captivating documentary (in German, with English subtitles): Dance Around the World with Éric Gauthier.