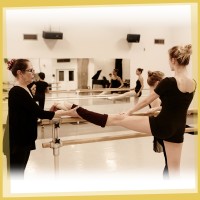 photo: Peter Morneau
Summertime is made for dancing
With a new choice of courses offered only in the summer, the recreational division offers adults an out-of-the-ordinary session. From July 2 to August 8, it's time to enjoy the classics of the season (Jazz Broadway, choreographic workshop, stretching) or to try the new urban dances Initiation course.
This incursion into another universe is concocted by Sarah Lefebvre, a pedagogue much appreciated by students in the professional division. After having performed for Dave Saint-Pierre for over twelve years, she has collaborated with artists such as Radio Radio, SoCalled and Laurence Nerbonne.
The schedule of the session still includes ballet classes of different levels as well as Pilates.