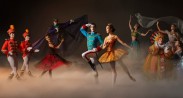 The Nutcracker, a gift from young dancers
Around fifty students have the opportunity to participate in this magnificent ballet choreographed by Fernand Nault, former director of L'École supérieure.
"For them, it represents a defining experience, and for the spectators, it is also a remarquable moment, says Anik Bissonnette, artistic director of L'École supérieure and former fairy of the Grands Ballets. I still remember the first time I saw The Nutcracker: I instantly knew what I wanted to do in life!"
The roles of Clara and Fritz, as well as several sheeps, reindeers, angels, matriochka dolls and children of the party, and several members of the corps de ballet are current students of the professional, preparatory and recreational programs of l'École supérieure.
PHOTO: Damian Siqueiros/zetaproduction.com