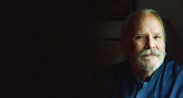 Photo: Michael Slobodian
Vincent Warren (1938-2017), an iconic figure on the Québec dance scene
"We are deeply saddened by the loss of this great man, but I am convinced that his star will continue to enlighten and inspire us, just as he did through decades of dance in Québec," stated Anik Bissonnette, Artistic Director of l'École supérieure. "A sensitive and learned artist, he was also extremely generous. We will miss his passion, his humour and his charming accent."
On May 30th of this year, the Conseil des arts et des lettres du Québec awarded Vincent Warren the Québec Order of Arts and Letters: "He generously worked to build bridges between the two solitudes, between classical ballet and contemporary dance, the European tradition and North American avant-garde, the East and the West, the world of dance, and the institutions, artists and public."
Born in Jacksonville, USA, Vincent Warren started dancing at the age of 11, after seeing the Movie The Red Shoes. This was also when he started collecting everything he could find on dance, a habit that would remain with him throughout his life. After starting his career in New York, where he shared the stage with Igor Stravinsky, he was recruited by Madam Ludmilla Chiriaeff in 1961. By 1965, she appointed him lead dancer of the Grands Ballets Canadiens. Until his retirement from the stage in 1979, his charisma won over critics and a broad public.
Vincent Warren next dedicated himself to communicating his passion for dance. Among others, he taught ballet and the pas de deux at l'École supérieure. He also taught dance history, not only at l'École supérieure, but at several universities and was a sought-after speaker in Québec, the US, and as far away as India. He organized several exhibitions and wrote scholarly articles. His commitment to his peers led him to head the Dance Association of Canada (1986-1990) and the Regroupement québécois de la danse (1987-1988). He was also a member of the Montréal Urban Community's Arts Council (1993-1999). In addition, he received a number of distinctions, including the Queen Elizabeth II Jubilee Medal (1976), the Dance in Canada Service Award (1985), the Denise-Pelletier prize awarded by the Government of Québec (1992), the Order of Canada (2004) and the Ordre des arts et des lettres du Québec (2017).
Mostly, Vincent Warren expended a great deal of energy on the development of the dance library founded by Ludmilla Chiriaeff in 1964, so much, in fact that the institution took his name in 2010. "It is in this historically rich universe that this philanthropist built his most tangible and enduring legacy," noted Marie-Josée Lecours, head librarian at the Bibliothèque de la danse Vincent-Warren, which holds more than 27,000 documents making it the largest collection of dance documents in Canada.
In 2016, the life of Vincent Warren was the subject of a full-length documentary film, Un homme de danse, produced by Marie Brodeur. The movie was honoured with the award for the best Canadian film at the Festival international du film sur l'art. In 1968, Vincent Warren also starred in Norman McLaren's Oscar-nominated short film Pas de deux.