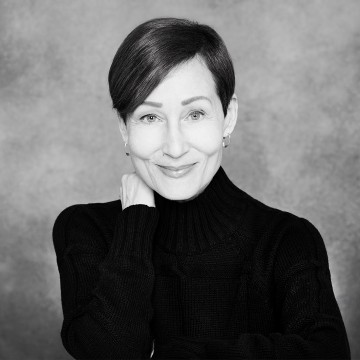 Andrea Boardman
It is the role of those who teach to believe in, stimulate and unleash the infinite potential that lies dormant in every student.
Known for her versatility and magnetic energy, Andrea received her dance training at the National Academy of Arts and began her professional career with American Ballet Theater II in New York.
From 1980 to 2001 she danced at the heart of Les Grands Ballets Canadiens de Montréal, 16 years as principal dancer. Performing over 75 company works, her repertoire ranged from the great classics to modern and contemporary works by internationally acclaimed choreographers. Her interpretations of creations by Nacho Duato and James Kudelka won the hearts of audiences worldwide and reinforced her reputation for brilliance.
From 2001 to 2009 she danced with LaLaLa Human Steps, taking part in international tours of two of Édouard Lock's creations, Amelia and Amjad. She was equally noted for her powerful presence in the film Amelia, which won awards at numerous festivals around the world.
Andrea has been part of the dance faculty at L'École Supérieure de Ballet du Québec since completing the teacher formation in 2012. As Associate Director for the College Program, she continues to share her vast experience with students who aspire to have a professional career in dance.
International critics have stated:
"The sensitivity with which Andrea infuses each of her performances has made her a muse for choreographers and confirms her reputation as an acclaimed artist on stages around the world." Anne-Marie Lecomte, La Presse
« The petite Miss Boardman takes to the charged physicality of the choreography as a matter of course. This is great dancing. » Anna Kisselgoff, The New York Times
"The depth, humanity and energy of her art was riveting…True artistic greatness." Paul-James Dwyer, Dance International Magazine