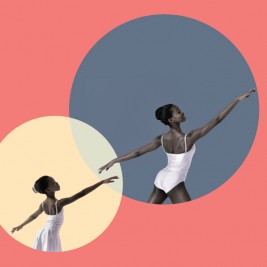 Our graduate, Tatiana Lerebours, photographed at the beginning and at the end of her training. She now dances for Les Grands Ballets | photo: Michael Slobodian
A New Format for Our Auditions
The security of our young dancers is at the centre of L'École supérieure's priorities. That's why the auditions at the Professional division are taking place differently in 2021.
Candidates for the Junior cycle are invited to in-person auditions in our studios at the Maison de la danse du Québec Ludmilla-Chiriaeff on Sunday, January 24, 2021. To respect sanitary measures, places are limited and the duration has been reduced. It's also possible to send a video.
All candidates for the Intermediate, Advanced and Superior cycles now have to submit a video audition. Outstanding candidates selected through this preselection are invited to join in an in-person audition on Sunday, January 31, 2021.
All candidates accepted has to take part in the Summer Intensive, now only reserved for young dancers who have the privileged to enter L'École supérieure's Performance program. From Grade 3 to collegial, this training gives students the tools to surpass themselves and to explore their full artistic, academic, and personal potential.
The first step to achieve your ambitions and live your passion for dance is to participate in L'École supérieure's auditions.
To learn more about the Professional division, click here.