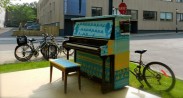 A Public Piano for Dancing in Front of L'École supérieure
THE INSTRUMENT WILL BE SET UP ON THE RAISED MEDIAN AT THE CORNER OF RIVARD STREET AND GILFORD STREET UNTIL AUGUST 3, 2015.
"Piano is an integral part of ballet teaching. In fact, it's impossible to imagine a class not accompanied by a pianist," says Anik Bissonnette, Artistic Director of L'École supérieure. "Having a piano outdoors is truly a gift for our students, who can pair their passion for dance with the joys of summer."
The month of July coincides with an intense training period for future professional dancers: the summer intensive gives them a chance to focus squarely on their art, since they are not required to take French or math courses during summer. As part of the summer intensive, L'École supérieure invites renowned ballet masters to join its teaching staff; among them are Bruno Cauhapé (former Opéra de Paris dancer), Robert Glumbeck (Artistic Associate of ProArteDanza) and James O'Hara (formerly of Ballet Preljocaj, Sidi Larbi Cherkaoui, and the Cedar Lake Dance Company).
L'École supérieure de ballet du Québec hires more than ten pianists to accompany all its classes in the professional program, the preparatory program and the recreational program (children and adults). The institution is also training tomorrow's dancers and developing a musical accompanist program intended for pianists.
Warmups, Classes and Performances
Students at L'École supérieure take advantage of the public piano to warm up and stretch outdoors Monday to Friday at the following hours: 08:15 to 08:45 | 09:00 to 09:30 | 16:00 to 16:20 | 16:40 to 17:00
Starting on July 13, young dancers will present short outdoor performances and improvisation at 17:30. STM users will be able to appreciate these performances while waiting for the 14, 27 and 47 buses at the Laurier metro station.
Weather permitting, teachers will also give short ballet and stretching classes as well as balletorats (personalized training sessions).
"I encourage all the students and staff – each of whom is highly enthusiastic and creative – to take full advantage of this unique opportunity to perform in front of our building and promote our activities with the greater public," says Anik Bissonnette.
PHOTO: Lili Marin