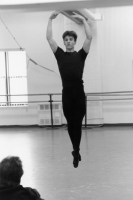 © Vincent-Warren dance Library archives
A scholarship in memory of Yannick Matthon
On August 5th, the talented dancer Yannick Matthon left us. This graduate of L'École supérieure lent his passion to dance for 30 years, performing on the greatest stages with Alberta Ballet, Les Ballets Jazz de Montréal, Kidd Pivot, RUBBERBAND and Ezdanza. An appeal for memorial donations to L'École supérieure's Foundation was launched by his family, raising just over $26,000. This money will now be invested in a new Scholarship Fund to support the development of young boys at our school. We are happy that the memory of this artist will allow others to live their passion for dance to the fullest.
Yannick Matthon's career (1976 - 2022)
Yannick Matthon discovered dance when he was 10 years old while watching the movie "White Night" with Mikhail Baryshnikov and Gregory Hines. He entered the École supérieure de ballet du Québec (ESBQ) where he did all his professional studies. After graduating from the ESBQ in 1996, he joined Alberta Ballet where he was given principal roles in his first year with the company. He performed Romeo in Ali Pourfarock's Romeo and Juliet, the role of the son in Balanchine's The Prodigal Son and the role of Othello in Val Caniparoli's adaptation of Shakespeare's masterpiece. After four years with the company, Yannick joined Les Ballets Jazz de Montréal (BJM) where he expanded his exploration of contemporary dance. It was in 2000 that he met Crystal Pite for the first time. He left the BJM in 2002 to become an independent artist, and as such, his career became more eclectic. In 2005, Yannick joined Kidd Pivot and danced with the company until 2014.
Throughout his career, Yannick continues to develop his art, as well as participate in residencies. He also shares his passion and his atypical approach to dance by giving classes in Quebec, British Columbia and Europe.
--
Yannick had a free and didactic spirit, two traits that have shaped his career and his teaching style. The contemporaries who helped shape his character through work and friendship are among our greatest, including: Aszure Barton, Benoît Lachambre, Crystal Pite, Dominique Porte, Joel Suarez Gomez, Lee Su-Feh, Myriam Naisy, Pontus Karl Johan Lidberg, Robert Battle, Rudi Van Dantzig, Shawn Hounsell, Serge Denoncourt, Victor Quijada, Wen Wei Wang and Yannik Larivée.
Yannick lent his passion to dance for 30 years, performing on the greatest stages with L'Alberta Ballet, Ballets Jazz Montréal, Kidd Pivot, Par B.L.Eux, RUBBERBAND, Ezdanza and many other companies. He will have reached the 1000th performance milestone and enjoyed a very diverse and unique career.