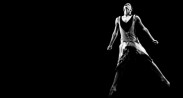 A studio in memory of Nathalie Buisson, exceptional dancer
Nathalie Buisson (1965-2013), an exceptional dancer known both here and abroad for her vibrant performance energy, will have a studio named after her at L'École supérieure de ballet du Québec. This institution, from which she earned a diploma in 1986, will pay tribute to her during the official inauguration of the Nathalie-Buisson Studio on Friday, October 16, 2015.
"I've been waiting for this moment for two years," said Anik Bissonnette, Artistic Director of L'École supérieure, who first met Nathalie Buisson at Les Grands Ballets Canadiens. "Nathalie left us too soon, but now, like a benevolent presence, she'll be able to encourage our young dancers to surpass themselves."
Thanks to photo archives, L'École supérieure students who train at the Nathalie-Buisson Studio will be able to retrace the dancer's career path. In particular, Nathalie Buisson distinguished herself performing in the lead role in Rassemblement by Nacho Duato, so much so that Duato recruited her to join the Compañía Nacional de Danza in Madrid. She danced with the company from 1993 to 1998, and at the invitation of various companies she went on to restage the Spanish choreographer's ballets throughout the world. In 2004, she was diagnosed with an inoperable brain tumour. In order to raise funds for research, she teamed up with a number of dance artists to present the benefit show Cœur en tête in 2006 and 2009.
"L'École supérieure's mission was remarkably well embodied in the person of Nathalie Buisson. After her tenure at our establishment, where she first arrived at a very young age, she was able to fulfil her promise as an artist and perform on the world's leading stages, sharing her passion for her art and showing a great deal of courage and resilience," said Alix Laurent, Executive Director of L'École supérieure. L'École supérieure promotes the value of our dance heritage with youth. The institution has named other studios after people who have profoundly marked the history of the arts in Canada: Ludmilla Chiriaeff, founder of L'École supérieure and Les Grands Ballets Canadiens; Daniel Seillier, ballet master and educational director at L'École supérieure for two decades; Fernand Nault, choreographer; and Eva von Gencsy, co-founder of Les Ballets Jazz de Montréal.
PHOTO: Michael Slobodian