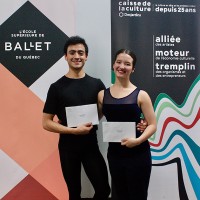 Juan Sebastian Hoyos Correa and Fauna Natasha Lopera Lopez | photo: Olivia Gomez
Important Scholarships for Two Students
Fauna Natasha Lopera Lopez and Juan Sebastian Hoyos Correa, students of the Professional Division, are the 2019 recipients of the scholarship offered by the Caisse de la Culture Desjardins presented by the Jeune Scène d'affaires. A value of $1500, it aims to facilitate their professional integration, allowing them, for example, to audition in the greatest dance companies in the world.
The Executive Director of the Caisse de la Culture Desjardins, Ms. Marie-Christine Cojocaru, and the President of the Jeune Scène d'affaires, Ms. Natacha Engel, awarded the scholarship during the annual Six à huit of the Foundation de l'École supérieure de ballet du Québec, October 10th. They underlined the commitment of these two young dancers to L'École supérieure and their constant concern for improvement.
"Arrived in Montreal in July 2017 for the Summer intensive of the Professional Division, she quickly integrated not only L'École supérieure but also the Quebec, argued Ms. Cojocaru. In less than a year, she learned to speak French fluently in addition to improving her technique and developing her interpreting skills. If she has an ear for languages, she has it also and especially for music. She is a dancer who knows how to move with rhythm and melody, and who is excessively expressive. On stage as on a daily basis, she embodies joy and gratitude, always with a lot of sensitivity. To reward her spirit of initiative and encourage her in her journey, we give the scholarship in contemporary to Fauna Natasha Lopera Lopez."
"Our classical laureate has a lot in common with Fauna, said Ms. Cojocaru. Like her, he arrived from Colombia in 2017, and he is just as smiling and committed to his training. Distinctive in his mastery of the classical technique, he immediately joined the ranks of Les Grands Ballets to dance among the Nutcracker's gentlemen. A few months later, he returned to the stage of Wilfrid-Pelletier at the opening of La Soirée des étoiles. Always with Les Grands Ballets, he will dance again in the Nutcracker this winter and in Sleeping Beauty in the spring. In addition, he will represent L'École supérieure at the Assemblée internationale, a biennial event to be held in Toronto in May 2020. He is a humble and open artist, always concerned with improving himself. For these reasons, we give the scholarship to Juan Sebastian Hoyos Correa."
Thanks to an attentive philanthropist
The Foundation's Six à huit was also an opportunity to thank and celebrate the outgoing President of the Board, Jean-Paul Bellon, who has made a significant contribution to developing the Foundation and leading it to its present success. Donors present attended brief performances of professional dancers in training.
The event kicked off the 2019-2020 fundraising campaign.
In 2018-2019, the great generosity of the Foundation of L'École supérieure's donors has made it possible to award $107,500 in excellence and support bursaries to 45 young dancers from L'École supérieure. Another $7,500 was awarded for special projects such as hosting world-class teachers and experts, as well as $10,000 for nutrition workshops. Thanks to its Foundation, L'École supérieure remains accessible to talents who do not necessarily have all the financial means to follow its program. The Bibliothèque de la danse Vincent-Warren also received $12,000 for the enrichment and preservation of its valuable collections.
More details in the Annual Bulletin 2019.
To see photos of the event, visit our Facebook page.