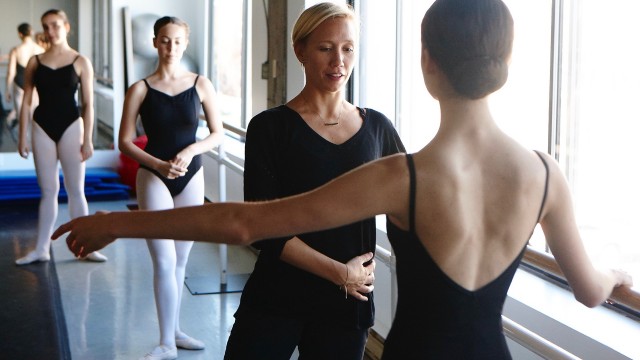 Robin Mathes, 2016 teaching training graduate and former dancer at the Grands Ballets, in class with her students. | photo: Peter Morneau
My Career: Dance Teacher
Inspiring, creative, lively, human and progressive, the job of a dance teacher is not boring! Christine Williams, professor at the Professional Division and Associate Director – Teaching Program and Regional Partnerships can tell you a lot about the subject with her many years of experience in the ballet world.
"Taking a teaching training improves our practice and legitimizes our profession as a dance teacher," explains Christine Williams.
Indeed, graduates are at the forefront by enriching their knowledge in anatomy and educational psychology, among others. It is also a way to perfect their art and to seek out new tools to perfect their working method.
Led by professionals in the field and experienced specialists, the teaching training at L'École supérieure promotes knowledge sharing and personalized follow-up. "Our students really appreciate the opportunity to interact in class. It allows them to connect with other members of the dance community and their teachers," says Christine Williams. "Sharing happens at all kinds of levels!"
This program, offered in collaboration with the Cégep du Vieux Montréal, is exceptionally offered online this fall, given the current context. This is a good opportunity for candidates outside of Montreal to take this extraordinary training.