Superior Cycle
Superior Cycle
In Quebec, L'École supérieure is the only institution authorized to offer high-level professional training in classical dance, in partnership with Cégep du Vieux Montréal since 1979.
On average, the student does 30 hours of dance per week.
While most of the courses are conducted in French, many teachers also speak another language, such as English, Russian and Spanish.
The student has the possibility to choose the dance-only curriculum, which consists exclusively of professional training in ballet. He is then following correspondence courses.
Admission
Candidates of all levels can audition. However, the later a student enters the program, the stricter the technical requirements. For girls, mastering the pointe technique is essential.
Candidates must audition according to their current academic grade level.
Audition
Preselection by Video
Deadline: Sunday, January 23, 2022
Finale Selection in Montreal
Sunday, January 30, 2022
No latecomers
Parents will not be allowed to watch the audition. The results are communicated later.
Selection criteria
Composed of the artistic director and teachers of L'École supérieure, the jury evaluates the following criteria:
Coordination
Flexibility
Musicality
Expression
Motivation to pursue a career in dance
To learn more about the admission process at Cégep du Vieux Montréal, please consult their website.
Process
1. Prepare two photos
A portrait
A full-length photo, 1st arabesque in profile
3. Make a payment of $45
Credit card or electronic check
Outfit
Girls
Dance leotard
Pink tights
Ballet slippers and pointe shoes
Hair bun
Boys
White T-shirt
Black shorts or tights
Ballet slippers
Summer Intensive
July 11 to 29, 2022
Candidates selected after the first auditions are required to participate in the entire summer intensive program, which is a decisive step in the admission process. As candidates experience the daily training they would receive at L'École supérieure, they are subjected to an in-depth artistic, technical and biomechanical evaluation. They can be admitted for the school year or invited to apply again the following year. For more information, consult the summer intensive guide.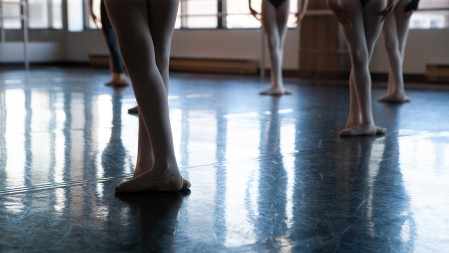 Ève-Marie
" This is to all those who, in any way, played a part in the great pleasure I experienced in being hired by the Nederlands Dans Theater 2, in short, to the entire staff of L'École supérieure.
Read the complete testimony
Services and scholarships