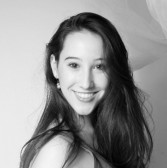 Laura Lelièvre
Laura is a professional dancer, dance teacher, choreographer, and massage therapist. Born in Quebec City, she started her professional dance training at l'école de danse de Québec. Primarily trained in classical ballet and contemporary, she deepens her training in jazz, modern, hip hop and flamenco. She graduates from the Quinte Ballet School of Canada with distinction in 2012, under the direction of John Ottmann.
Laura pursued her passion to dance in Toronto to work with contemporary, flamenco and hip-hop companies as a freelancer. She continued her dance studies at Canada's National Ballet School's (NBS). She completed the 3-year teacher training program studying dance pedagogy, anatomy, music, and dance history to name a few. She received the Carol Chadwich award after her first year, demonstrating her significant potential as a dance educator.
She is highly involved in the Sharing Dance program, an initiative to make dance accessible in the communities across the country through the making of a flashmob. Laura also taught at NBS, teaching jazz in the professional program, ballet in the associates program for children as well as the adult program. She graduated from the Teacher Training Program with distinction in june 2017, along with a Cechetti Associates diploma and a ISTD National Associates diploma. Laura pursued her teaching career in Quebec City, becoming a full-time ballet teacher at l'École de Danse de Québec. She taught body conditioning, ballet, pointe work, and choreography for the professional, recreational and adult programs. Laura was also invested at l'Académie de ballet Christie and Québec Multi-danse Association, teaching ballet and choreography as well as giving private coaching for talented students.
She became a certified massage therapist with the FQM as well as a Pound fitness instructor.
She is now part of the teaching faculty at l'école Supérieure de Ballet du Québec in the junior program. Her growing passion for dance led her to compete in salsa and bachata, she has several national and international titles under her belt and continues to deepen her training in latin dances. She currently performs with the Montreal based companies Nouena Dance and with Alliance.