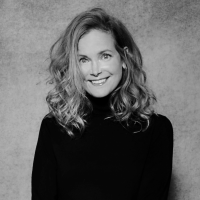 Anik Bissonnette, O.C., C.Q., O.M.
Artistic director of L'École supérieure de ballet du Québec, Anik Bissonnette is among the most accomplished ballerinas in Quebec. Her performances were acclaimed throughout the world for more than 30 years. At the end of this brilliant career as a dancer, she became involved behind the scenes, promoting her discipline and sharing her passion for dance with the next generation of performers.
Anik Bissonnette made her professional debut at the age of 17. Her precise technique and grace soon led to resounding success in Quebec and overseas. In 1989, she joined the Grands Ballets Canadiens de Montréal, becoming the principal dancer the following year. Until her retirement from the stage in 2009, this exceptional artist performed lead roles in the most famous ballets, including Swan Lake, Giselle and The Nutcracker, working with numerous local and international contemporary choreographers. For 10 years, from 2004 to 2014, she served as artistic director of the Festival des Arts de Saint-Sauveur, raising its profile to one of the top-rated dance and music festivals in the country. She was also director of the celebrated dance company La La La Human Steps from 2008 to 2010. Over the years, Anik Bissonnette has involved herself tirelessly in her field. In 2003, she created the Nutcracker Fund for Children to help underprivileged youth discover the magic of dance. From 2004 to 2010, she chaired the Regroupement québécois de la danse. She sat on the boards of directors of numerous organizations, include Les Prix de la danse de Montréal, Van Grimde Corps Secrets, Skeels Danse Montréal, Danse Danse and the Governor General's Performance Arts Awards Foundation, which she co-chairs.
Anik Bissonnette has garnered numerous honours.
1995: Order of Canada
1996: Ordre national du Québec
2008: Prix Denise-Pelletier
2014: Governor General's Performing Arts Award
2018: Ordre de Montréal
2021 : Ordre des arts et des lettres du Québec