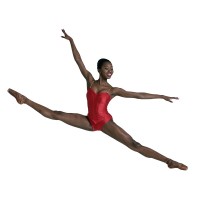 A Spectacular End of Year
The end of school year rhymes with 'spectacular' at l'École supérieure de ballet du Québec ! In fact, the students in the professional division's performance program will show their high-level training on stage starting on May 24th.
May 24th to 26th | salle Pierre-Mercure du Centre Pierre-Péladeau de l'UQAM
The annual show of the professional division suggests many show formats for different audiences.
For the general public, Corps de ballet is presented in its entirety in the evening, on May 24th and 25th at 19:00. Faithful to tradition, the artistic direction marries repertoire and tailor-made creations for our young dancers. Besides Paquita and Serenade, other choreographies signed by our former student Katerine Leblanc (Team White), by Vanessa Garcia-Ribala Montoya, the first dancer at Les Grands Ballets Canadiens and by the internationally renowed Gioconda Barbuto are added to the program. A graduate brings all the boys together in Polémique masculine while Sophie-Estel Fernandez excels in large deployments.
Reserved for school groups in Montreal, the school matinee promises to familiarize them with dance and show them a shortened version of Corps de ballet, on May 24th at 13:00. Some places still available. For reservations, please contact Mariana Obando.
Families, particularly those with younger children, enjoy the friendly formula of Un après-midi au ballet, on May 25th at 14:00. This condensed Corps de ballet is adapted for the little ones and warmly animated.
La Jeune Scène d'affaires de l'École supérieure organises its famous Pointes & Nœuds papillon benefit event to gather funds for the Foundation of l'École supéreiure around the representation on May 25th at 19:00.
Parents and friends of students in the junior cycle of the professional division will be delighted to finally see them on a real stage, on May 26th at 16:00, in a new show called Prologue. For the occasion, the young dancers perform short choreographies of various styles representing each of their studio work and their diverse background.
June 5 and 6 | Théâtre Rouge du Conservatoire
Our graduates shine with original solos created by the most prominent professionals of the Montreal scene, while students of the superior cycle reinterpret the award-winning performances of Chorégraphes de demain in the show UN finissant, UN chorégraphe. After the intermission, Meritas and diplomas will be handed-over.
To purchase tickets for these shows, visit our shows page.