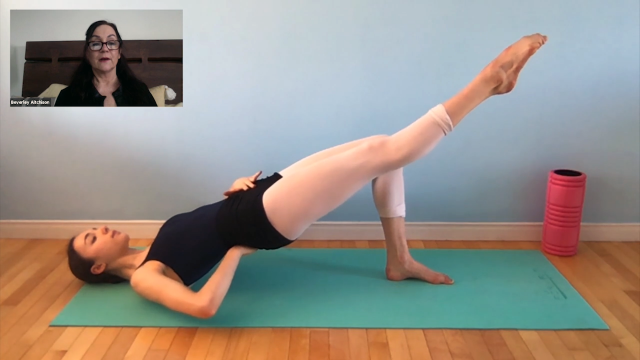 A student from the Advanced cycle of the Professional Division in training under the watchful eye of her teacher Ms Beverley Aitchison, who's also Studies Director.
Everyone At Home!
Strong of the success of its long-distance training developed at the Professional Division, L'École supérieure now gives online classes to children and adults. The Recreational Division offers its first online summer session.
From June 29th to August 8th, everyone will be able to dance with teachers and pianists they already know so well. Ballet classes of all levels are available from Monday to Saturday on the video conference platform Zoom. Register now!
REGISTRATION ADULTS
REGISTRATION CHILDREN
The True Benefits of Online Mode
"Seeing how our students at the Professional Division maintained their physical condition with our different online initiatives during the last couple of months, the relevance to offer online classes to the Recreational Division was obvious", affirm the Executive Director of L'École supérieure, Alix Laurent.
Since June 15th, students at the Professional Division come back gradually in studios they had to leave abruptly last March. From the beginning of April, the training program was transposed at home. Teachers kept a close link with their students in addition to providing an exercise manual and a video collection to guide them while working safely. Superior cycle's students had online classes every day with their teacher and pianist.
"To stop dancing for a long period of time could have major impact on our future professional dancers who are not only all-around artists but above all, high-level athletes, explain the Artistic Director of L'École supérieure, Anik Bissonnette. Fortunately, these artists who need dance to blossom, were able to continue to do so not only because of their determination and discipline, but also because of the creativity and ingeniousness of our team".